Negative reviews can make you angrier than a bobtail on hot pavement. Responding to them can make you even angrier – if that's even possible. But yes, bad reviews especially fake reviews just ain't cricket!
Responding while upset, is a bit like shopping when you are hungry … just don't do it! Let's take a moment to step back and discuss some ways to deal with negative Google reviews.
We'll discuss some tips for responding to negative and fake Google reviews in a way that will help protect your business' reputation.
How to respond to negative reviews if you deserve them.
First off, consider if the review is justified? Did you drop the ball? It happens to all of us at some stage. If the reviewer is correct in their review, no matter how much it hurts you to say it, take ownership and apologise.
Respond promptly, don't put it off. You want your customers to know that you respond both quickly and appropriately when they leave a negative review. If you don't respond at all, then people may think that their concerns are falling on deaf ears or going ignored entirely. Your response should be brief but sincere; simply acknowledging what happened is often enough for most angry reviewers because once they've been heard out they usually cool down considerably (and sometimes even remove their reviews). Just make sure not to say anything like "I'm sorry you feel this way" as it can come off disingenuous."
Second, try to address the reviewer's specific concerns. This is especially important if you think that the review is fake or malicious. If you can show that you've taken steps to correct the situation and improve your business in light of the complaint, then it may help to lessen the impact of the negative review. However, don't make any promises that you can't keep – doing so will only make things worse."
Third, respond privately whenever possible. Not everyone who leaves a negative Google review wants their issue aired publicly for all to see (and potentially judge). If you respond to the review in a private message, then those who read it will only see your response – not what the reviewer said about you or your business."
Fourth, respond with empathy. Remember: no one wants to feel like their concerns are falling on deaf ears or being ignored entirely. Acknowledge that what happened isn't ideal and apologize for any inconvenience caused by whatever issue led them to leave this negative review of your company."
Fifth, respond as briefly as possible while still addressing their specific concerns. . Long-winded responses can come off defensive or combative – even if you're trying to be polite.
Finally, respond quickly when possible but don't rush into replying just because someone left a bad rating. If there's been an error made at some point along the way (like a miscommunication between employees), then wait until things settle down before responding so as not to prevent further confusion from happening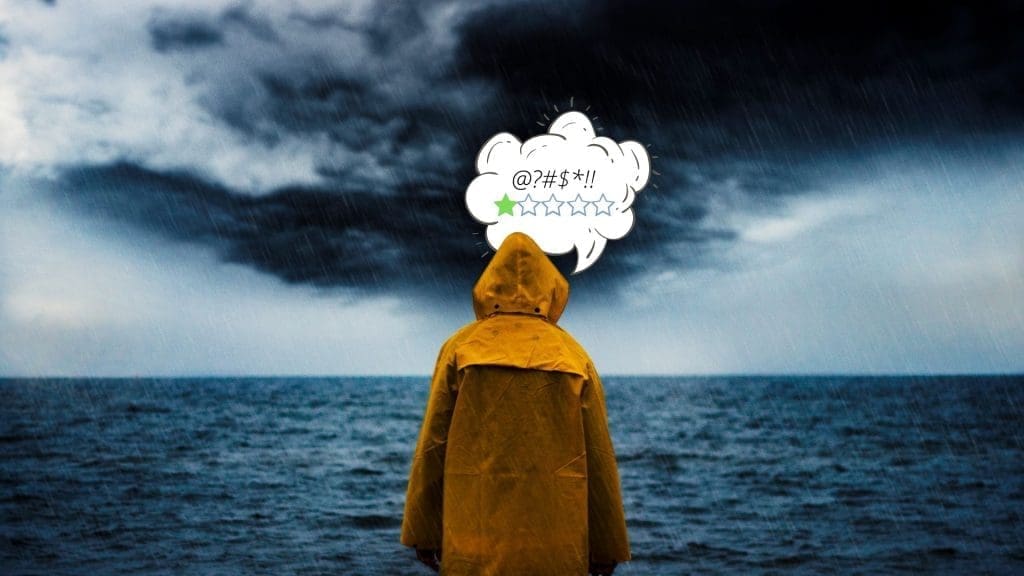 How to deal with fake reviews
First, try not to respond at all. This might seem like a cowardly thing to do, but sometimes it's the best course of action. If the review is fake, responding isn't going to do anything but make you look bad. Instead, report the review and let the powers that be deal with it.
If you feel like the review is fake or malicious, report it to Google. They may be able to take action against the reviewer.
If you decide to respond, be professional about it. Try not to get defensive or attack the reviewer – this will only make things worse and paint a picture for those reading your comments.
How you deal with negative reviews is an indication to potential customers of the type of service they can expect from your business.
In Conclusion
Negative reviews can be an opportunity to show your restraint and your eagerness to offer a great service. When potential customers see you responding calmly and with care even when the review is blatant fabrication it paints your company in a good light.
Finally, remember that one bad review doesn't mean your business is doomed. Most customers won't even see the review unless they're specifically looking for it. Focus on building a good reputation with your other customers and let Google take care of the rest.